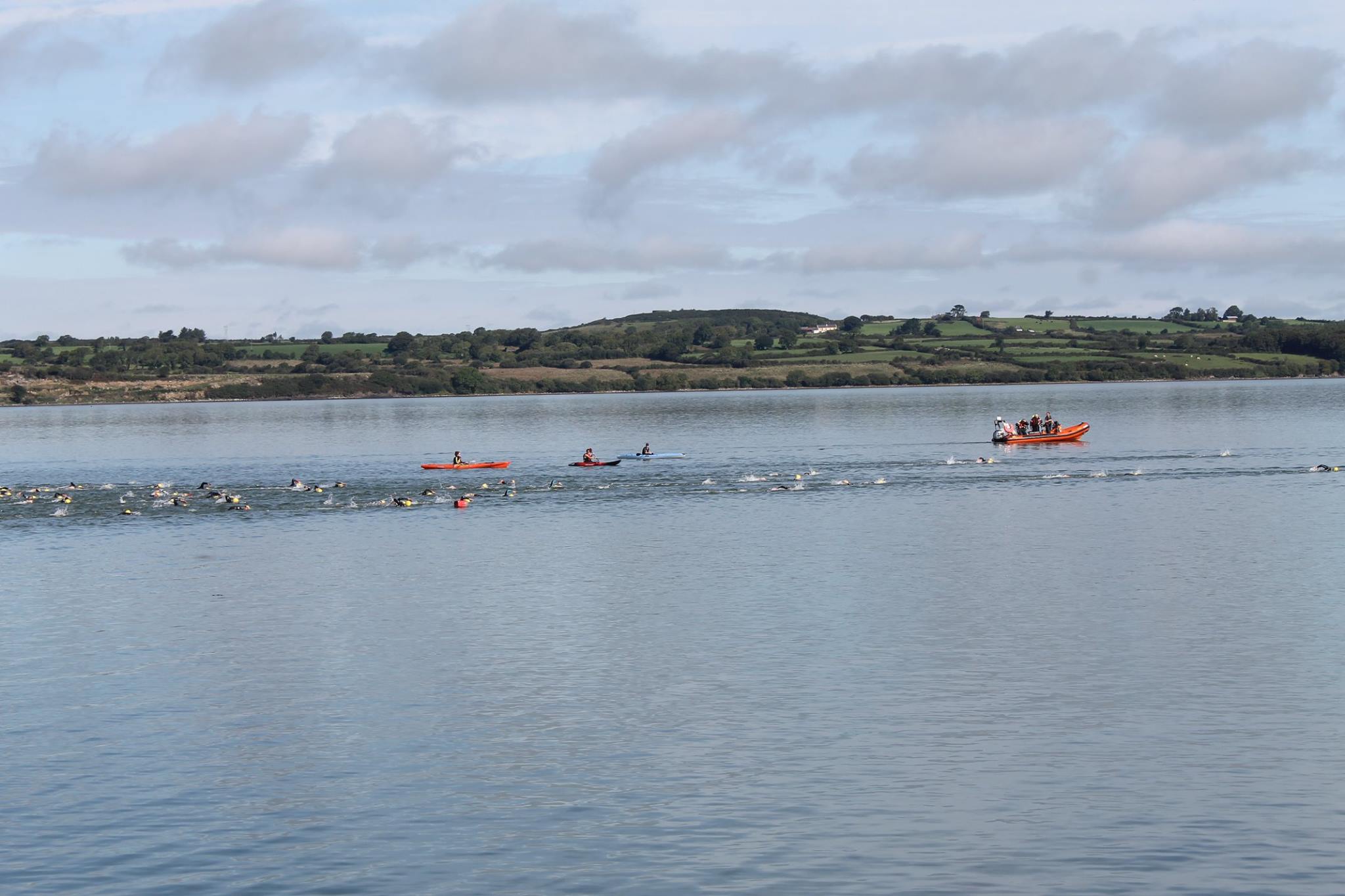 Glin Pier is a fantastic resource that is well used during the triathlon season for open water swim training.
Lifeguards
There are lifeguards on duty for the June Bank Holiday Weekend, and for July and August. When on duty, the flags will be visible. The two flags signify the area lifeguards cover at Glin Pier. If you swim out side of this area, you are doing so at your own risk.
Remember:
Yellow & red striped flag: Lifeguards on duty and patrolling between the flags
Red flag: It is unsafe to swim
There are also lifebuoys around Glin Pier and shore. If you see any issues with these, please report it.
Tides
As the Shannon Estuary is tidal, when you swim is dictated by the tide times. You can download the timetables from Shannon Foynes Port Company or use the TidesNearMe app. The rule of thumb is to either add on approximately 14 minutes to Tarbert Island times, or remove 14 minutes from Foynes Island times, to get a close approximation of the times for Glin Pier.
If you're curious, you can see the surface temperature at Shannon airport at: https://www.seatemperature.org/europe/ireland/shannon.htm.
Swim Distances
There are a number of landmarks that are used by local swimmers to gauge their distances. These are:
Out to the Green Sign and back: 3km
Out to Joe Hogans front door and back: 2km
Out to the 'Sticks' and back: 800m
If in doubt, there's nearly always someone swimming who will be happy to advise where these landmarks are – particularly if they're wearing a wetsuit and/or a Garmin 😉
Swim Safety
As the swimming a Glin pier is open water and tidal, be mindful of your own safety at all times.
Swimming in open-water (river, lake or ocean) is very different to swimming in the clear warm waters of a swimming pool.
Ideally, swim with a group or a buddy. Do not go out alone. If unavoidable, keep your distance shorter, and do multiple 'laps' of the shorter distance.
Acclimatise to the temperature and environment before undertaking any long distances.
Use a tow float for visibility, or at the very least a brightly coloured swim cap.
Keep parallel and close to the shoreline.
Practice sighting techniques before undertaking any long distances.
Wear a wetsuit if you must, but don't be afraid to go without – but again acclimatise before going too far (for either, swimming in a wetsuit takes some time to get used to).
Remember you're in an open water environment. There are wild creatures sharing the waters with us. If you see seals or dolphins, keep your distance. Don't overthink about what else is swimming in the water 😉
Know your limits – tiredness, cold, cramps. Stop, look around, turn onto your back and float, catch your breath, turn back earlier than planned – your safety is paramount.
There ARE currents at Glin Pier. Be very mindful of this – speak to the lifeguards or local swimmers before setting out.
Be aware that weather conditions can change quickly, and the water conditions as well.
Take time to enjoy the water and the scenery from a different perspective.
Facilities at Glin Pier
There is limited parking available at Glin Pier. During the summer months, there can be quite a lot of people at the pier, with parking limited. We do not advise you park along the hard shoulder of the N69.
There are two changing huts available where you can leave your belongings while swimming.
Do not leave valuables in your gear bag, or in your car. A tow float with storage is very useful for bringing car keys.
Please take any rubbish home with you; keep the pier clean and tidy.