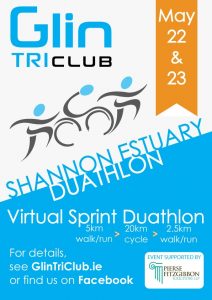 Registration is now open on https://resultsbase.net/event/5729?fbclid=IwAR1c-YKuxxGnYKh5IdH3DZRgw06Hewijd_14_TSFwU5pfMbLxjaPYzRcGgA
This event is a chance to increase fitness and train in a structured way while respecting COVID-19 restrictions. It is suitable for anyone with a basic level of fitness and is highly flexible as all training is done at your own pace; in your own locality; in your own time. It will also provide the opportunity to become part of a like minded training community, virtually, providing motivation and encouragement along the way.
Entry is £18 (€21) for individuals. Relay teams may also enter. A discount of 25% is available to Glin Tri Club members.
Soon after registration you will receive a welcome email with a training pack and an invitation to join the Shannon Estuary Duathlon private group on facebook. A virtual goodie pack and an event neck warmer will also be sent out in the coming weeks.
For more information, see Shannon Estuary Duathlon FAQs